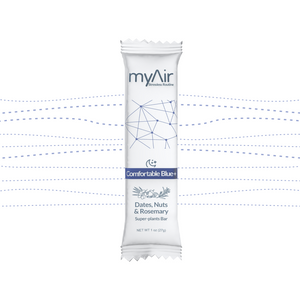 Comfortable Blue The Mid-Day Physical Ease Master

Comfortable Blue is infused with plant based molecules commonly used to relieve physical condensed energy like Artichoke
We have taken the best superfood ingredients and paired them with premium dates, hazelnuts and cashew nuts.
Each myAir superfood bar contains natural formulations of functional superherbs and terpenes (plants molecules).
Ingredients: Dates, Cashew Nuts, Sunflower seeds, Hazelnuts, Natural Flavors and Artichoke Extract.
 
Contains no added sugar, gluten or artificial ingredients, low-GI, Vegan, GMO-free.
De-stress, re-energize, nourish with the best of the Plant Queendom.

- Consume one bar daily or as directed by your healthcare practitioner.
Warning: Do not use it if pregnant or nursing. 
If taking medication or other nutritional supplements, consult your healthcare practitioner before use.
Keep out of the reach of children.
These statements have not been evaluated by the Food and Drug Administration. This product is not intended to diagnose, treat, cure, or prevent any disease.